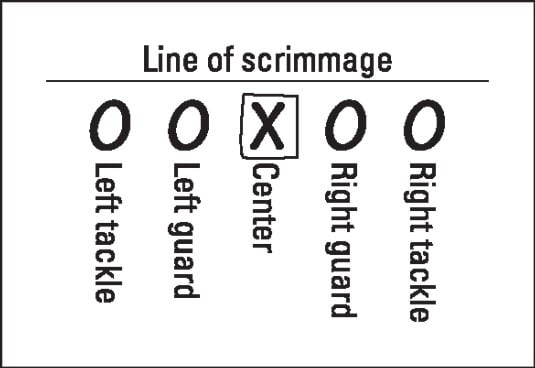 Round 3 of our Offensive Line brings us to the first focus for an east coast team: the Baltimore Ravens.
For a look at the Arizona Cardinals or the Oakland Raiders, simply click on the links.
Baltimore Ravens
One of the more intriguing teams for the approaching 2019 season is the Baltimore Ravens. Officially Joe Flacco-less, officially Mark Ingram-full. We saw Lamar Jackson be a top 10 fantasy QB from weeks 11-16. We saw Alex Collins and Gus Edwards become decent fantasy options on a weekly basis. What we didn't see was a fantasy relevant wide receiver; the best receiver on the Ravens was John Brown with 715 yards and 5 touchdowns.
The Ravens offensive line remained mostly healthy throughout the 2018 campaign with only Alex Lewis missing any remarkable time with 3 games. They allowed 32 sacks which is an average amount. They also committed an average number of penalties.
What they didn't do was excel.
2018 End-of-Season Starters and Their 2019 Status
| | | | |
| --- | --- | --- | --- |
| Position | 2018 Starter | 2019 Starter | Notes |
| Left Tackle | Ronnie Stanley | Ronnie Stanley | One of the best LTs in 2018. Mostly healthy and consistent. |
| Left Guard | Alex Lewis | Alex Lewis | Missed some games due to a neck injury. Was otherwise pretty bad. |
| Center | Matt Skura | Matt Skura | A perennial practice squad player who lucked into the role. Likely to be replaced. |
| Right Guard | Marshal Yanda | Marshal Yanda | One of the best RGs in the league in 2018. Returns after a largely healthy year. |
| Right Tackle | James Hurst | Orlando Brown | Hurst and Brown swapped depth chart positions during the 2018 season. Currently is Brown's role. |
| Tight End | Nick Boyle | Nick Boyle | Was signed as a free agent in 2019. Boyle is effective at pass and run blocking but lives in a 4 headed monster Tight End position in Baltimore. |
Current O-Line Ranking
| | | |
| --- | --- | --- |
| Name | Position | NFL Ranking (in Position) |
| Ronnie Stanley | Left Tackle | 9 |
| Alex Lewis | Left Guard | 27 |
| Matt Skura | Center | 20 |
| Marshal Yanda | Right Guard | 4 |
| Orlando Brown | Right Tackle | 18 |
| Nick Boyle | Tight End | 9 |
| Overall | Team O-Line | 14 |
*Rankings based on ProFootballFocus.com scoring
Free Agency: Move Along, Nothing to See Here
The Baltimore Ravens made a huge wave with their signing of Mark Ingram, but have made no changes to their offensive line through free agency. Nick Boyle was signed as a Free Agent but he was already on the team in 2018.
It's conceivable that they wanted to make more free agency moves but were strapped by the amount of cap space that they have available in addition to a number of expiring contracts in 2020. They may be considering extending some of those and will need the money available to make those moves.
NFL Draft Thoughts
The Ravens currently have 8 picks at their disposal. They will have to use them carefully because they have 7 positions of need. On the O-Line, they have a need at Left Guard and at Center. Both Alex Lewis' and Matt Skura's contracts expire after the season ends. Based on their performance, I do not anticipate either of them being resigned unless it is a depth move. Replacements need to be found through the draft regardless of those decisions because of their performance.
We must consider what is a greater position of need. Unfortunately for the purposes of this article, I believe the Ravens will place Wide Receiver above the inside positions of the Offensive Line. They have Willie Snead (whose contract is also expiring at the end of the season) and then there are a bunch of names that I have never seen on a fantasy football roster. Multiple mock drafts have the Ravens selecting Parris Campbell from Ohio State. If they do, he will immediately move up my preseason draft board rankings.
Their first round pick is now behind us. The Ravens do not have a second round pick. They traded it to Philadelphia as part of a package deal to get Philly's Round One pick in 2018 which the Ravens used to draft Lamar Jackson. Now we are in the third round. Do the Ravens have a need greater than Guard and Center? Let's assume that they do not.
The likely targets for either of the Ravens 2 third round picks are:
Greg Little – Tackle – Mississippi
Mitch Hyatt – Tackle – Clemson
Tyler Roemer – Tackle – San Diego State
Lamont Gaillard – Center – Georgia
Michael Jordan – Guard (but can move to Center) – Ohio State
Look for those names to be called on day 2 of the NFL Draft. If they are drafted by the Ravens, they are instantly in the conversation of starting in week 1.
One name that might still be on the board in Round 3 or 4 is Connor McGovern out of Penn State. He is another one who, like Michael Jordan, is capable of playing Center or Guard. He was an essential piece to Saquon Barkley's amazing 2017 season at Penn State. Considering the lack of receiving talent on the Ravens roster in addition to the signing of Mark Ingram AND the proclivity of Lamar Jackson running the ball, McGovern would be a perfect fit. If the Ravens draft McGovern AND if he lands the starting role, I will move Mark Ingram higher in my preseason rankings.
2019 Thoughts
The Baltimore Ravens are on the knife's edge. A couple of right moves and they could find themselves the AFC North champions. The Bengals are rebuilding and the Steelers are on a downward trend. The Browns appear to be a juggarnaut this year, but they have turned disappointment into a habit. A couple of missed opportunities and the Ravens will quickly start moving pieces before the trade deadline in preparation for the 2020 season.
The Ravens have a Vegas over/under of 9 wins in their 2019 campaign. They will not be able to live up to that goal without some help on the offensive line. Look for the Ravens to strike late on day 2 or early on day 3 of the NFL Draft.
Conclusion
Let's assume that the Ravens make the right choices. They know their way to the division championship and they found it with an arguably mediocre team in 2018. If the Ravens are able to utilize their defense as it should be used, they will be able to turn their focus to the run game.
Mark Ingram will have a good fantasy year. It will be even better if the Ravens make the right decisions for their offensive line.
Lamar Jackson will continue his life of fantasy relevance. It will be even more consistent with improvements to the offensive line.
The Ravens WILL draft a wide receiver on day 1 in April. Hot take: that rookie will lead the team in receiving.
They have the means to make a fantasy owner happy. A couple of steps towards improving their offensive line will turn that good year into a GREAT one. We will be watching the draft very closely. We cannot make any further assessments until then.